Workplace Violence Prevention Program – 3 Areas to Review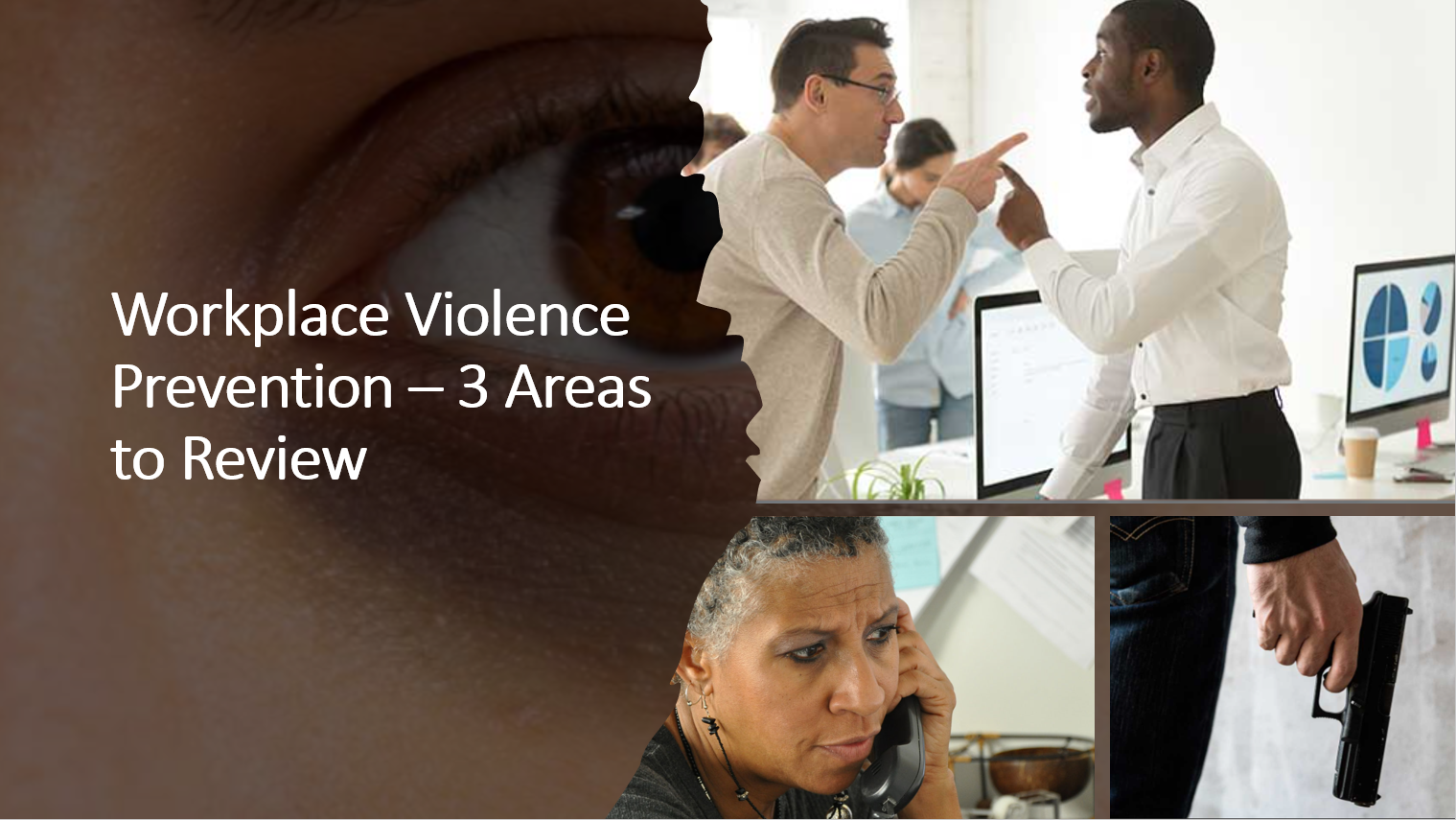 Workplace Violence Prevention – 3 areas to review as employees return to the office
Ideally, your Workplace Violence Prevention Program (WPVPP) should be reviewed (at least) annually. Pre-Covid-19, in the most part, there would be no major changes. However, with the pandemic shifting (for some permanently) the workplace dynamic between the office/ home environment, we believe 3 areas (reviewed across departments) would warrant particular attention.
1. A Program that is inclusive of Domestic/ Intimate Partner Violence
A surge in domestic violence has become a tragic reality of the pandemic. The connection between domestic violence and workplace violence is well documented with added concern around the uncertainty of how abusers will manifest their violence when victims return to the office.
With this recent increase (and potential ongoing trend), companies should review and ensure prevention and support measures are optimum and clearly outlined to employees both in the office and at home. The program should encourage help-seeking behaviour to build awareness and trust. As with other aspects of a WPVPP, there should be buy-in from multiple departments (CEO down): Security, HR, Legal, Managers and Team Managers. The Threat Management/ Assessment Team (TMT/TAT) should also have clear guidance and training on dealing with reported concerns.
2. A Program inclusive of Home Workers/ Hybrid Workers
For most office-based industries, during Covid-19, an employee's workplace has been their home not the traditional corporate office.
For employers looking to ensure the safety and security of their employees, this task has become more complicated as home environments don't offer the traditional HSSE (Health, Safety, Security and Environment) mitigation framework that physical offices provide. Interestingly, there is no specific requirement by OSHA to do this for home offices, although most pro-active employers will conduct risk assessments and implement measures accordingly – we outlined a few of these measures in an article back in June 2020.
Whilst it is anticipated the majority of employees will eventually return to the office, it is expected the trend of more people working from home will continue for some time yet, if not permanently, on a hybrid model.
Most WPVPPs will state inappropriate behaviour is unacceptable both on their property and/or during company business, the later generic wording encompassing a home office, but given the growing trend of home working, would a simple addition of specific wording around this environment focus the employee's mind that all aspects of the WPVPP apply to a home office?
The WPVPP training should be reassessed, adding case studies that specifically affect home workers. For example, virtual harassment via online meetings, social media and/or other messaging apps. Can tensions built up over online meetings unfold in the office when employees meet less frequently face to face?
3. Fresh Training to communicate changes and acknowledge a change in the workplace dynamic
Key to a successful WPVPP is recognition of warning signs & concerns and knowing how to report these appropriately (for further assessment by the TMT/TAT). Such training is essential both at the employee level but also the managers who they are reporting to. Reporting should be encouraged in a positive way with no fear of reprisals.
Essentially, as employees return back to the office, and with home working likely to continue, this seems to be an opportune time for employers to review their WPVPP and introduce fresh and engaging training. If employees are doing the same training package (with the same case studies) they did when last in the office pre-Covid, don't expect your WPVPP to be as effective as it could be.