How to Stay Safe Playing PokémonGo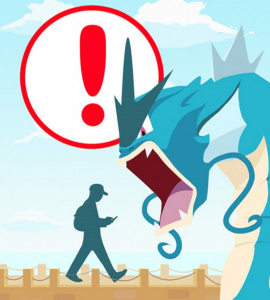 The augmented reality game, PokémonGo, has taken the world by storm, enticing millennials to relive their glory days as Pokémon trainers. But in the week since the game was released, aspiring trainers, glued to their phones, have fallen victim to accidents and crime alike.
Robbers have used the geolocation feature of the game to lure unsuspecting victims into secluded areas
People have been hospitalized after chasing the virtual creatures into hazardous spots
A Wyoming teen even stumbled upon a dead body last Friday after jumping a fence in search of a rare Pokémon
Gamers are used to exploring a virtual world from the safety of their own home, but when the real and virtual worlds collide, as they do in PokémonGo, its important to remember that Team Rocket isn't the worst thing you might run into. Here are 7 safety tips to remember while playing PokémonGo that will keep you and your friends out of trouble.
1. Bring a friend
Many bad situations can be avoided by just having someone else around. If you twist your ankle while searching for that elusive Pokémon or run out of battery while out adventuring, its safer to have another trainer out there watching your back.
2. Keep your eyes up while on the move
This may seem like common sense, but a little more awareness may save you from an accident. Whether you're crossing busy streets, or hiking in the wilderness, your focus should be first on your environment, and second on the game. Plus, your phone will vibrate when a Pokémon shows up, so you won't miss a thing.
3. Don't drive and play
Just don't. That Pikachu isn't worth putting you or your passenger's lives at risk.
4. Respect private property and businesses
If you are caught trespassing on private property, "Playing Pokémon" isn't going to be the response law enforcement will want to hear. Many businesses also don't want people using their property to catch Pokémon. Before entering a business, ask permission first, as they may expect you to buy something in return.
5. Stay hydrated and dress appropriately
Before you go adventuring in the world, make sure you are prepared. The game is so fun that you may find yourself in the dark, miles from home, with rain clouds overhead without even realizing it. Make sure to bring water, and anything else you may need to catch Pokémon safely from start to finish. Feel free to lose yourself in the game, just be prepared before you do.
6. Use common sense
Criminals have been using the game to lure people into secluded areas to rob them. Understand the area that you are in, and the risks that come with it. Playing at night may give you an advantage over other trainers, but your bright phone screen may also make you a target. Try to stay in well lit areas with other people and consider traveling in groups at night. And if you see a lure late at night, on a secluded street, in a bad neighborhood, definitely avoid it.
7. Travel the world
Wherever you may go, the Pokémon will follow. Just follow these tips and be mindful of when and where you play, especially abroad where you will be exposed to all of the above, possibly more, in an unfamiliar environment.