Flying to the UK: travel during Covid, April 2021
Justine Oliver, an Account Director at beTravelwise, has just returned to the UK from France and has written an account of the Covid measures that she experienced. She provides pointers, tips and advice for those considering travel. Whilst the UK was her destination, the following rules may apply equally to travellers returning to the UK.
Having just flown to and from England, from France, I thought I would share my experience and highlight the tricky parts or potential pitfalls, of what is an expensive and logistically time-consuming process.  Please be aware that the rules for England, Scotland, Wales and Ireland all slightly vary and you should check on the Government website for the latest: https://www.gov.uk/travel-abroad.
The UK currently has a traffic light system regarding quarantine.
Green countries are those from which no quarantine is necessary.
Amber countries require you to quarantine at a place of your choice, for example at home, a friend or a relative's for 10 days.
Red countries dictate you must quarantine in a managed isolation hotel.
The country list changes frequently and can be consulted on the UK government website: https://www.gov.uk/guidance/red-amber-and-green-list-rules-for-entering-england.
Travellers from all countries need to show a negative PCR test to be able to enter the UK.  This is normally checked before you board the flight.  You will have to do one or more tests shortly after you arrive in the UK.
Pre-travel
When booking your flight, be mindful that with each connection comes an increased risks of new passengers from red list countries joining your flight.  My flight passed through Paris on route to London and when I changed planes, at least half of my fellow passengers had come off a flight from South Africa, a red list country in terms of UK travel.  Not only is there an increased risk of getting Covid but if anyone on the plane later contracts Covid, every passenger who was on that plane will be told to quarantine for additional days.
Anyone from an Amber country has to pre-book a day 2 and 8 Covid test, which come as a pack that is sent to your quarantine address. The UK government website gives you links to do this.  https://www.gov.uk/guidance/providers-of-day-2-and-day-8-coronavirus-testing-for-international-arrivals
Red list country travellers have to pre-book their quarantine hotel stay which normally comes with the day 2 & 8 tests included.
The UK government website is not written in the clearest way and if English is not your first language, it can be hard to find these links. The airline will check that you have made these provisions, unfortunately 6 people were not allowed to fly because they had not booked these tests before boarding. Annoyingly for the rest of us we were delayed for over 2 hours because their luggage had to be found and taken off the plane.
In my opinion it would have been quicker and more helpful if the ground staff had helped the travellers book these tests (which is possible at the last minute), rather than looking to remove them from the flight.
 Documentation
1. Day 2 tests
Having a copy of your pre-booked Covid tests is essential to be able to board your flight.  If you plan to show the booking email on your phone, make sure your phone has enough charge for this – you might need to show it several times.
2. Passenger locator form
This form must be filled in no earlier than 48 hours before your flight. The contact details you put on this form will be used by 'Track and Trace' to contact you to ensure you are quarantining. Most people are called several times during their quarantine period and some are given a surprise visit.  The Track and Trace staff are actually very helpful, I felt like they might have offered to assist me if I had been unwell or needed provisions.
3. Reason to Travel
Only essential and specific types of travel are allowed to the UK at the moment. Therefore, you will need to be able to justify for your trip. Work is a legitimate reason, but you might be asked for documentation to prove this. The amount of scrutiny you come under can depend on the officiousness of the official you meet. In case you are stopped and asked for them, I would advise that you take documents to prove you meet the criteria for travel.
Arrival
Arrival in the UK is a slow process, for me immigration took 2 hours. There are many stories in the news of a lack of boarder force staff to check all the new paperwork, causing slow queues and, sometimes, much longer waits. I would recommend visiting the lavatory prior to joining the queue and have a bottle of water.
When I flew, the Amber list countries queued next to the Red list countries.  You are separated by normal, webbing queue dividers and are standing next to each other for several hours. It seems to make a mockery of track and trace being done solely on the passengers you were with on the plane, as you are just as likely to contract the virus here.
Quarantine
Once at your place of quarantine, you should receive, by post, your two tests which you must do on day 2 & 8.  You are only allowed to leave your quarantine to post them.  35,000 post boxes in the UK have been designated 'Priority Post boxes' specifically to assist with Covid testing which means the post is collected more regularly. You can find your closest priority box here: https://www.royalmail.com/services-near-you#/.
Test to Release
Quarantine is normally 10 days, but you can pay for an additional 'Test to Release' on day 5 of your quarantine (day 6 from the day you arrived in country).  When booking this, check how long your supplier takes to send you the results and secondly whether you are reliant on the postal service.  It can take over 72 hours to get the results back of a posted self-test kit, which means your quarantine is only reduced by 48 hours.
I found a location who took the swab, dropped it at the lab and had results in 12 hours, guaranteed 24.  If you find one of these providers near you, book your test as early as possible in the day as there is a good chance you will be out of quarantine by that evening. List of Test to Release providers: https://assets.publishing.service.gov.uk/government/uploads/system/uploads/attachment_data/file/985312/covid-private-testing-providers-test-to-release-120521.csv/preview.
Test to Release isn't cheap and can be invalidated if someone on your plane contracts Covid. Their positive should be picked up on their Day 2 test, but the system is so slow that you may not find out until just after you have paid for your Test to Release and can leave quarantine. Even though you know you are negative from your Test to Release result, you are on the Track and Trace system and will have to return to quarantine. I came out of quarantine in the morning and was asked to return to quarantine that evening!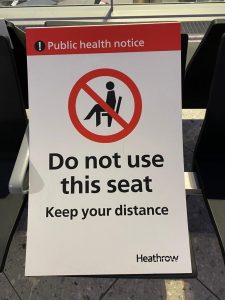 Conclusion
In conclusion, if you are planning on travelling to the UK (or returning to the UK), do your flight paperwork and test booking in advance. Even though the quarantine period is 10 days, do not book any vital engagements for 12 days in case someone on your plane contracts Covid as you have to return to quarantine for 10 days since your day 2 test.
The return journey back to France was far simpler in terms of paperwork and testing.  Each country has different entry requirements but it is very likely you will need a negative PCR test to leave the UK which will be checked at the airport.  It is imperative that your PCR test shows your passport number. So once you receive your certificate, check your passport number is on it as you will not be allowed to board if not.  The ground staff at Heathrow said they regularly bar passengers boarding flights because their test certificate has omissions or they have the wrong paperwork.
Summary
In summary here are the key points from my recent flight:
– Check if your country requires day 2&8 testing and bring a copy of the booking reference.
– Prepare for a long wait in the immigrations queue on landing.
– Don't assume paying for Test to Release will ensure you are out of quarantine early.
– For important engagements arrive 12 days in advance in case you are told to re-quarantine since your day 2 test.
– For return journey, check your passport number is on your negative PRC test certificate.
and finally, good luck!
beTravelwise offers a range of Covid-19 Content.