Champagne for our Door Wedge Competition Winner
Christopher Stiegeler of executive recruitment agency Dunleavy White has picked up a case of champagne after being named the winner of beTravelwise's 'Orange Doorwedge' competition, which ran during this year's Business Travel Show.
The travel safety training specialist invited show delegates to submit photographs of novel uses of its signature orange doorwedges, which the company was giving away to visitors to its stand.
Normally we recommend travellers carry a doorwedge to secure their hotel accommodation by jamming it beneath the front door, especially if there isn't a deadbolt available.   This is a simple but effective means of preventing or slowing down a person trying to gain access to their room, allowing them time to call for assistance.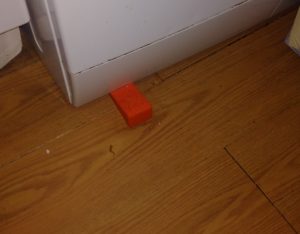 Christopher Stiegeler was named the winner of the competition for using the wedge to stop his washing machine dancing and driving his neighbours insane.
Christopher was delighted to receive the case of champagne and, of course, another doorwedge to keep with his travel essentials.