beTravelwise tests the sharing economy in Denver
In mid-July we went to Denver for the GBTA convention and decided that we should use Uber and Airbnb so that we could better understand the sharing economy from a business perspective[1].  Our aims also included gaining an understanding of how they might best be used within a travel risk management programme and what safety advice might be appropriate for their use.
Ground Transport with Uber
I have often ridden in Uber cabs but this was the first time that I used my own account.  The process was easy enough and creating a business account with my work card was simple.  The first time I used the App was at Denver airport after arrival and it couldn't have been easier.  Our driver was polite, friendly, helpful and drove safely to our accommodation.  Upon arrival we unloaded and that was that – not having to pay cash and being emailed my receipt was a welcome change from sorting out cash and storing receipts.
We probably used Uber ten times during our stay and each driver was courteous, polite, sober and safe.  We knew their names, vehicle registration numbers and how much the ride was going to cost in advance.  The fact that we put in the destination also meant that there was never any confusion as to where we were going.  We also asked the drivers about how they signed up to Uber and they did seem to go through a vetting process that ensured they were who they said they were, had licenses and owned their vehicles.
I understand that there may be some fundamental concerns with the licensing of Uber but from an individual safety perspective I find Uber hard to fault.  The pluses are:
You do not need cash
You don't need to leave the safety of your location until the car has arrived to collect you
You set the route which the driver accepts prior to taking the job
You know the driver's name, have his photo, number plate and vehicle – plus their star rating
The journey is tracked
Your travel manager receives full details of the journey automatically upon completion
We always felt safe and that the drivers and their vehicles were fit for purpose, plus the administration of the account was too easy.  On our last journey back to the airport a notification came up that our driver was hearing impaired; I can't imagine a conventional taxi service being able to so effortlessly employ such a driver as technology replaced the need for communication.
At beTravelwise we will continue using Uber as part of our ground transportation mix.  We believe that from a personal safety perspective[2] the benefits are clear and the corporate accounting and records excellent.
Accommodation with Airbnb
I am going to split my Airbnb review into two parts, firstly talking of duty of care and secondly the experience it offers.  This was not the first time that either of us had used Airbnb, but previous trips had been for leisure travel – at the time of booking we were unaware of the Business Travel Ready properties so did not look for this option.
Duty of care
We rented a property with 83 reviews and a 4-star average rating, approximately a mile south of the convention centre so we could easily walk each day.  Upon arrival the area seemed incredibly run down, you can see that it is being regenerated, but it has a long way to go.  The key was in a key lock attached to the front grill for which we had the code and extracting the key we let ourselves in.  An initial worry was the frequency with which this combination is changed and key control.  Upon entering we discovered that the back door had been left unlocked – access controls were lacking and combined with the grim condition it was in we didn't feel we were in a safe, well maintained property.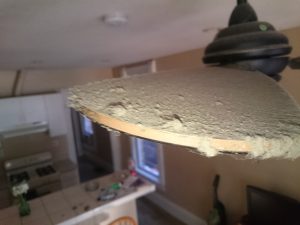 If we had had employees staying at this property I know that I would have been failing in my duty of care towards them.  It was filthy (aside from the stains, dust and mould there were biting insects in the main bed), there were few facilities, there were safety issues (exposed plug sockets) and we were worried about access (or lack of access control) to the property.
One of Airbnb's trust and safety managers was on a panel session at the convention and spoke about the need of trust when using Airbnb.  In all my years in the risk management world I have never completed a risk assessment with a heading of 'trust' and think that Airbnb have a long way to go to provide proper screening of their properties to reduce corporate travel managers' fears about using the platform.
Experience
Despite, or maybe perhaps because of, the property being so grim we definitely experienced Airbnb's motto of "Don't go there, Live there".  We went to local bars and restaurants, we walked through residential streets and shopping areas, we sat on the front porch and watched the world go by.
It didn't seem like a work trip in the way that staying in a hotel room would have made it feel like, once we left work and the convention centre we were actually living, breathing and experiencing Denver.  So once we returned home our trip seemed more like a mini-break than a work convention.  I feel like I know Denver in the way that you get to know a place when you stay with friends or relatives.
Summary
There are definite lifestyle advantages to using Airbnb and 'living' in a location can add a welcome diversion to an otherwise sterile work trip.  It is hard to see how an organisation can honestly say it is meeting any duty of care to it's travellers when using this platform; too much of the safety and security is left to chance and when it comes to employee safety and duty of care, trust shouldn't be a factor.  If Airbnb is serious about attracting business travellers we believe that it must do far more to physically check properties; for security, safety, facilities and cleanliness.  After arrival we discovered that the other reviewers of our property must have been overly polite or had very low standards, but an Airbnb staffer checking all properties would quickly have been able to correctly rate the property.[3]
We will continue using Airbnb as we only owe a duty of care to ourselves but I would not let an employee stay at an Airbnb as it currently operates.
Conclusion
The sharing economy is here to stay, is becoming increasingly mainstream and can be used safely with the correct measures in place.
We have no issues with Uber from a safety perspective however recommend you check the vehicle and driver as you would any private hire service.
Airbnb relies too much on trust still for us to recommend for safe use, however some companies are using it and they should, as a minimum, provide a checklist of things that their employees should be checking when using this accommodation that might include:
How to properly analyse reviews and descriptions
How to check the security of property
How to check the safety of the property (electricity, gas, alarms)
Making an emergency plan to escape property (in event of fire, break in etc)
What to do it security, safety and cleanliness do not meet required standards
From a corporate perspective the sharing economy must be risk assessed properly and measures put in place to address any shortfalls in standards so the services can be used with confidence.
Notes:
[1] The sharing economy was the topic of many of the education sessions at the convention and one of the liveliest debates of the week was a head to head between the CEO of a limousine company and the CBO of Lyft.
[2] I have ridden in Uber cars in Cape Town and felt much safer than using official taxis – with official taxis you don't know when they will arrive and really have no idea whether the driver is who they say they are, whether they or the car are insured and if they know the destination.  I have also stayed in an Airbnb in Cape Town and our safety relied completely on the integrity of the reception security guard – the apartment front door was incredibly flimsy with only a Yale lock closing it.
[3] This blog post (even if slightly biased) explores the issues in some more detail: https://www.silverdoor.co.uk/blog/is-airbnb-business-travel-ready-2/