Travel Safety Education (Combining Different Topics)
Global Terrorism Awareness
We offer a suite of travel safety videos that organisations can use as internal educational pieces. Our topics cover all the main travel risks an employee can reasonably expect to encounter in addition to worst case scenarios. We continually update our video portfolio to ensure our content is fresh and in line with the latest global risks.
Clients can choose travel safety topics individually or adjoin a number of topics to create longer videos that are tailored to their travel risk concerns.
Rebranding and Adapting Content
Our orange is not for everyone and we appreciate for some organisations content used internally has to follow corporate brand guidelines. We can recolour our videos, add company logos and synchronising opening/ closing slides to encourage specific policy direction. We also give you the option to edit the colours yourself using our client customisation app below.
All our content is 100% adaptable and available in any language – bespoke content is available on demand.
Client Customisation App
Please log in using credentials provided to access the app:
Login in using your credentials
This app gives clients the ability to see how their brand guidelines might be translated into their customised animation. Once their chosen scheme is finalised, the conversion process follows quickly and smoothly.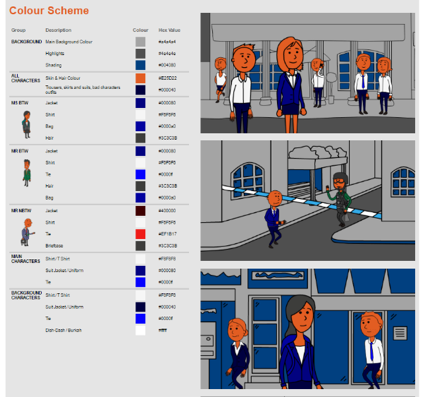 Example Client Customisation Form